We are getting excited about starting back with meeting again from September 14th 2023.  There are quite a few exciting activities:
We discovered that we have a lot of bass clarinettists in the group so we will be exploring some music for bass clarinet choir.
There is a new single read day coming up on the 15th of October 2023.   The cost will be £20 for adults and £8 for students. You can see details of the event on the poster below.
The single read play-day is one March 21st 10-4 at Hurworth Grange Community centre.  The cost is £20 for adults and £7 for students. Full details are available from the poster.  To register your interest please go to the following link, or scan the QR code on the poster.
We have a concert in aid of the RNLI coming up on Friday 13th October in Hutton Rudby at 7pm.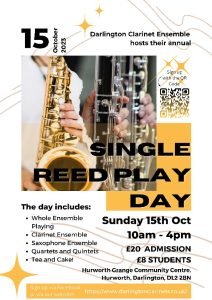 Rehearsal dates start on Thursday September 14th and we meet every other week after this.  Our meetings are held in the rehearsal room of Hurworth Grange  DL2 2BN at 7:30pm.
The Darlington Clarinet Ensemble was formed over twenty five years ago and is now a group of up to twenty players who meet to play fortnightly during term time at the Hurworth Community Centre.  The ensemble rehearses for its own pleasure and gives concerts.  Our music director is Hayley Jenkins who is lecturer in performing arts and music at University of Sunderland.
If you would like to find out more about the Darlington Clarinet Ensemble, please go to the contacts page and let us know.