Sunday 29th March 2020 - Play Day
Single Reed Play Day 2023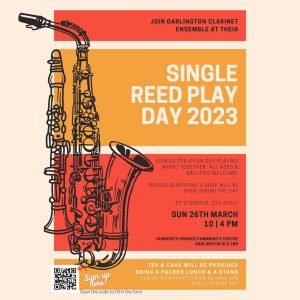 Join us for a day of playing, technique workshops, composition workshops, for all ages and all abilities! Bring an instrument (saxophone or clarinet or both, and any range you like) and a music stand.    Sunday, 26 March 2023 at 10:00 at Hurworth Grange
To register your interest follow this link.  For more information email darlingonclarinetensemble@gmail.com.
Christmas Magic with the Darlington Concert Band
Sunday 7th October 2018, Play Day
Single Reed Play Day
Join us for a day of playing, technique workshops, composition workshops, for all ages and all abilities! Bring an instrument (saxophone or clarinet or both, and any range you like) and a music stand.
We are very excited to have saxophone and clarinet specialists
and members of the Delta Saxophone Quartet joining us on the day, along with composer and conductor Dr David Lancaster.
Download the application form Play Day Application Form 2018 OCTOBER.
For more information email darlingonclarinetensemble@gmail.com.  
We have on-line payment available for those would prefer to pay this way.  Just go to www.paypal.me/darlingtonclarinets there you will see a form which allows you to send money to us through PayPal.  When you use this form, make sure you use a debit card as this should not incur any additional charges.
Wednesday 2nd May 2018, Rule Brittania
We are delighted to be performing a Proms style evening at Beamish Hall Hotel, DH2 1EH with the Durham County Wind Band. The evening is to raise funds for Veterans at Ease, a Durham-based charity who do fantastic work supporting veterans and those suffering with PTSD. 
We would love you to come along and wave some flags, sing along and help us raise the roof for such a fantastic cause.  The evening starts at 7pm on 2nd May 2019.
April 1st 2017, Joining up the dots, A Joint Concert with Clarinetix!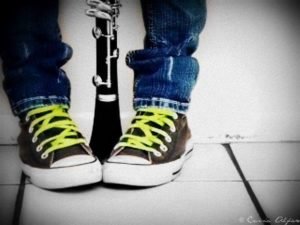 We are proud to be hosting another concert with Durham Music Service's student clarinet ensemble Clarinetix! After such a fantastic response to the concert last year we have decided to organise another collaborative concert.
With music from both ensembles before joining together for the big finale there will be music to satisfy all musical tastes. Please come along to support local musicians and our stars of the future! 
Hurworth Grange Community Centre
41 Hurworth Rd, DL2 2 Darlington, Co Durham
Doors 7pm
Tickets available on the door. Adults £5, Concessions £3
14th May, 2016 Play Day
Clarinet and Saxophone playday will be Sunday 15th May at Hurworth Grange.  Application forms are available Play Day Application Form.
Ian Mitchell will be helping to lead the day in coaching and teaching.  More details of Ian's experience can be found on the 
Programme...
09:30 Welcome, registration and coffee
10:00 Warm ups/tone exercises
10:30 Specialist group ensembles
12:00 Lunch
12:45 Professional workshop and demonstration
13:45 Coffee break
14:00 Ensemble rehearsals
15:30 Showcase
16:30 Close
Concert 27th Feb, 2016 with Clarinetx